LLT's production of the Pulitzer winning play PROOF was our entry into the Eastern Ontario Drama League Full Length Festival.
Lindsay Little Theatre has chosen the perfect production for this year's Eastern Ontario Drama League competition" – Catherine Whitnall
"Over the next two weekends, you should be putting the Lindsay Little Theatre on your map. Proof is a show worth seeing, if not for the story then for the incredible performers featured in this show. These are actors that you need to see." – Sam Tweedle
PROOF is the story of Kathryn, the daughter of the brilliant math professor, Robert Llewellyn who has recently died after a lengthy mental illness. The play deals with the question of Kathryn's possible inheritance of her father's mental illness, as well as his brilliance at math, and her struggle for recognition despite doubts in the eyes of others.
A look at The Set and Cast
We had a wonderful reception from reviewers of Proof, and are beyond grateful for their support. You can find their articles below:
'FROM THE DIRECTOR'S CHAIR: Behind the scenes at LLT' by Sara Walker from Kawartha Lights: Click Here
Festival submission showcases young acting talent' by Catherine Whitnall from Kawartha Lakes This Week: Click Here
'Fantastic cast and experienced director a winning formula in 'Proof' by Sam Tweedle from KawarthaNOW: Click Here
---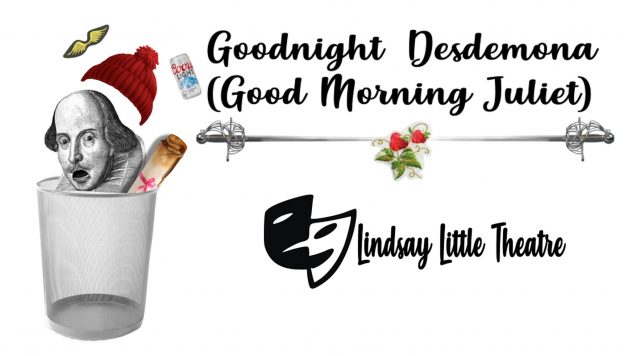 William Shakespeare meets Lewis Carroll (with a touch of Gloria Steinem!) in this zany comedy about a downtrodden assistant professor struggling to complete her doctorate with an under appreciated thesis: that two of Shakespeare's' tragedies were originally comedies! Her hopes are pinned on her ability to decode an obscure manuscript said to be written by Shakespeare's contemporary and buddy, an alchemist named Gustave. As mysterious forces leave tantalizing clues, Constance Ledbelly goes down the proverbial rabbit hole becoming a character in both Othello and Romeo and Juliet. Along the way she will discover comic and profound insights into the nature of authorship, the Shakespearean Canon, and (last, but not least) her own nature.
"Goodnight Desdemona is an exceptionally enjoyable comedy you don't want to miss!" – Sara Walker, Kawartha Lights

"Goodnight Desdemona (Good Morning Juliet) takes Lindsay Little Theatre cast down an ambitiously funny rabbit hole", Catherine Whitnall, Kawartha Lakes this Week

"Featuring an endearing cast led by actresses Rebecca Anne Bloom, Sidney Worden, and Ce'Nedra Goswell, Goodnight Desdemona (Good Morning Juliet) presents an interesting narrative with lots of intellectual and academic commentary that plays quick and loose with Shakespearean lore.", Sam Tweedle, KawarthaNOW
The reviews/interviews of this production
Goodnight Desdemona, Hello LLT! by Sara Walker, Kawartha Lights
Lindsay troupe tackles play with unique spin on Shakespeare, by Catherine Whitnall, Kawartha Lakes this Week
Lindsay Little Theatre tackles clever Shakespearean spoof, by Sam Tweedle, KawarthaNOW
Listen to the production's Director Shannon Peters-Bain and lead actress Rebecca Anne Bloom on BOBFM with Dave Illman below!